Unusual rental accommodation
Enjoy camping in atypical accommodation!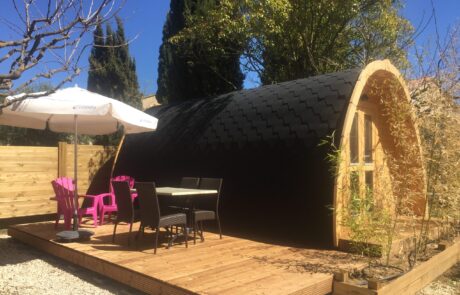 2/4
Capacity max:

2/4 persons

Size:

15 m², 1 bedroom

Shower/Toilet/Water:

No

Terrace:

10 m²

Number of Pod :

2

Reduced price, Cocoon
---
Arrival days in all seasons (even in high season): Monday, Wednesday, Friday, Saturday and Sunday, except the Pod (arrival everyday).
---
No arrivals on Tuesday and Thursday (except Pod)
The minimum stay in high season is 7 nights. The minimum stay in low/medium season is 3 nights.
For the pod, the minimum stay is 1 night.
NB: All our rentals are non-smoking. Each accommodation can contain a maximum of people, as indicated in the descriptions. It is not possible to add beds or to camp on the terrace or the garden of the rentals. If you want to add people, you have to choose a larger accommodation.