Camping Places
Camping and caravaning in Provence: camping places for tent, caravans and motorhomes
As campers you are welcome to place your tent, caravan or motorhome on the site Camping Les Verguettes and enjoy your holidays in the Provence. There are 82 places for campers on the campsite. It is a small and family-owned camping, perfect for enjoying your visits all around the Provence.
Our pitches are spread over 2 acres of shaded or sunny places. In the countryside you will enjoy the scent of pine trees, the summer sound of the cicadas and relaxing in the shade of olive trees. Equipped with several playgrounds and a heated pool, entertainment in summer, kids, adults and seniors will find a quiet place to have fun.
We offer two types of places:
Comfort places: with an electrical connection of 10 amps, the size is between 80 sq.m. and 100 sq.m. bordered with trees and greenery (sunny, shaded, semi-shaded)
Services+ places: with a size between 105 sq.m. and 130 sq.m. and a view on Mont Ventoux, you can enjoy on each place, of an electrical connection of 16 amps, water and drainage for grey water (sunny)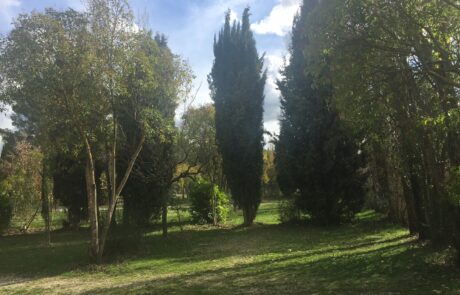 6
Capacity max:

6 persons

Size:

80-100 m²

Number of Comfort places :

59

Shaded of Half-shaded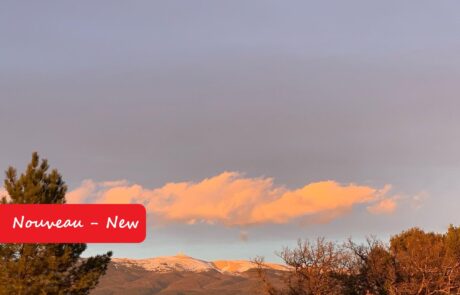 6
Capacity max:

6 personnes

Size:

105-130 m²

Number of Services+ Places:

18

Water/Drainage, View Ventoux
To connect to CEE electrical outlets, you can need a 25 meters-cable for some places (but we can lend you a long cable if you need…).
Each pitch can accommodate up to 6 people, of which 2 people are included in the price of the pitch.
A campsite is designed for:
– ONE motorized vehicle maximum: 1 motorhome, or 1 car + caravan or 1 car + tent. Two motorcycles count as one motor vehicle.
– MAXIMUM 6 people on the pitch, knowing that a baby counts for one person.
– MAXIMUM 2 animals per pitch (cats or dogs, except category 1 and 2, vaccinated, microchipped, kept on a leash).
– A maximum of ONE small tent (4 m²) can be added next to the caravan or motorhome.
– A maximum of 3 small tents can be set up on the site (without a van, motorhome or caravan on the same site).
Due to the well wooded campsite, the maximum length for caravan and motorhome is 7m50 and the maximum height is 3m20.
The campsite is located at the entrance of Villes sur Auzon, a typically charming village of the Provence. The center of the village, with all the grocery stores, restaurants and typical Provence wares you need to facilitate your holidays -all 5 minutes on foot from the campsite.
For motorhome campers, don't worry: you will be able to discover the area without using your camper. At the campsite, you can rent an electric car. So easy and such fun!
The places are available from 2:00 pm and must be free at 12:00 pm on the day of your departure. You will be given all information at the reception when you arrive.
At the reception, we also give you advice  on visits in the region, by car, bus, bike or walking. The campsite is ideally situated because it is in the center of the Vaucluse, and just 9 kms to the bottom of the Mont Ventoux – with quite a level road for cyclists to enjoy without becoming exhausted!
Equipment and facilities for holidaymakers
The campsite is equipped with two sanitary facilities, one at the bottom and another at the top of the camping pitches.
The sanitary facilities at the bottom offer separate showers and toilets for men and women. Each shower is equipped with a personal washbasin and free hot water. A baby area with a sink and a changing area is available to parents.
To make your life easier, toilet paper is available in each toilet. Our bathrooms are cleaned twice a day and are checked regularly during the day.
For our guests with a handicap, a sanitary space has been specially adapted.
We also offer sinks to wash your dishes and special sinks to wash your clothes, as well as a washing machine and a space for hanging up your washing.
Special rate for cardholders of ACSI, ADAC, ANWB
In Les Verguettes, the ACSI, ADAC and ANWB cardholders have a reduction in very low and low season (see price list here). This preferential rate is €20 for a pitch and two people, one animal and electricity 10 A.
To this basic rate, you must add the tourist taxes for each adult (18 years and over) and any supplements (16 Amperes electricity, water / drainage connection, etc.).
Offers exclusive to cardholders ACSI, ADAC, ANWB : you have to present your membership card on arrival.
The campsite is inspected annually by ACSI.
Welcome to the Provence, between Luberon and Mont Ventoux in the south of France!