Rental accommodations: mobil-homes, lodges, chalets, cottages et insolites rentals
We offer 24 Rental accommodation (pod, mobil-homes, lodges, chalets) and 9 Cottages Premium.
All our rentals and cottages are non-smokers.
NB : Each rental can welcome a maximum of persons, as mentionned in the descriptions. It is not possible to add beds or to camp in the terrace or in the garden of the accommodation. If you want to add some people, you can choose a larger accommodation or rent a camping place in addition to your accommodation.
---
Arrival days in all season (even in high season) : Monday, Wednesday, Friday, Saturday et Sunday.

---
No arrivals on Tuesday and Thursday (except in Pod and on Ascension Thursday).
The minimal stay in high season is 7 nights. The minimal stay in low/medium season is 2 (or 3 nights for the cottages).
For the insolite pod, the minimal stay is 1 night, in all season.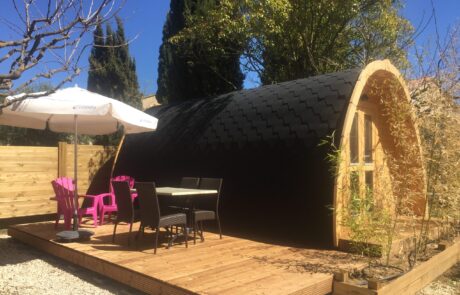 2/4
Capacity max:

2/4 persons

Size:

15 m², 1 bedroom

Shower/Toilet/Water:

No

Terrace:

10 m²

Number of Pod :

2

Reduced price, Cocoon
Welcome in the PREMIUM Area
Comfortable rentals, all equipped with air conditioning, TV and dishwasher and quality bedding, each with its own private garden!
A heated swimming pool reserved for Premium Cottages.
To welcome holidaymakers from 6 to 12 people per cottage.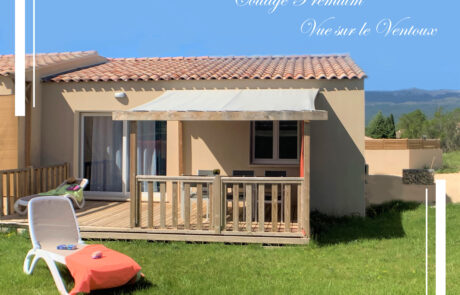 6
Capacity max:

6 persons

Size:

54 m², 2 bedrooms

Extra:

Air condition, TV, Dishwasher

Shower/WC:

Yes

Terrace:

18 m² semi-covered

Garden:

85 m²

Number of Cottage DUO :

5

Luxe, View Ventoux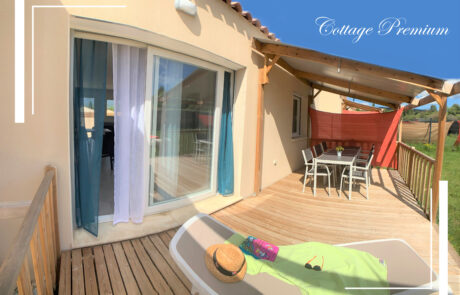 6
Capacity max :

6 persons

Size:

60 m², 2 bedrooms

Extra:

Air condition, TV, Dishwasher

Shower/WC:

Yes

Terrace:

18 m² semi-covered

Garden:

85 m²

Number of Cottage DUO PMR :

1

Luxe, View Ventoux
8
Capacity max:

8 persons

Size:

54 m², 3 bedrooms

Extra:

Air condition, TV, Dishwasher

Facilities:

Yes: 2 bathrooms, 1 WC

Terrace:

18 m² semi-covered

Garden:

85 m²

Number of Cottage TRIO :

2

Luxe, View Ventoux
12
Capacity max:

12 Persons

Size:

108 m², 5 bedrooms

Extra:

Air condition, TV, Dishwasher

Facilities:

Yes: 3 bathrooms, 2 WC

Terrace:

18 m² semi-covered

Garden:

200 m²

Number of Cottage FAMILY :

1

Luxe, View Ventoux