Informations CoVid-19 – 02/07/2020
News 02/07/2020:
European borders (Schengen, Switzerland, Luxembourg, etc.) are open subject to health security
Concerts and shows for children will be maintained this summer at the campsite, while respecting social distancing (you can have a drink on the terrace while listening to the concert -but perhaps not dancing- or watching on Facebook live .. new information in July).
The Festival of Jazz of Villes-sur-Auzon is maintained too :)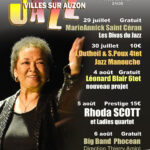 THE CAMPING OPENS ON JUNE 2d!
To allow you to enjoy it even longer, the campsite extends the season until October 22, 2020! For this occasion, the booking fees are FREE from 19/09/2020 for all reservations. In addition, for our camper friends, electricity is offered from 19/09/2020, like last year.
The pool is open, playgrounds and terraces of the bar and restaurant too!
Of course, there is a different operation than normal, precautions when you come to reception (wearing a mask recommended, a maximum of 2 people at the same time at the reception / bar ..), precautions during your aperitifs on the terrace of the bar (1 meter distance between tables, no more than 10 people grouped at a table) and vigilance on the use of swimming pools, playgrounds and common toilets (we will make sure to disinfect very regularly all common areas with suitable products fighting the coronavirus for your security).
The Snack is open. You can eat at the terrace or take away to your pitch.
So, all together, we will be vigilant to the health of other vacationers, in order to spend pleasant holidays and to be able to make them last all summer!
See you very soon to meet you!
Bénédicte and Lionel
Our camp-site is in the Vaucluse beneath Mont Ventoux, and the Gorges de la Nesque – a natural canyon near the National Park of Luberon.
We offer 60 pitches, and 23 different rental accommodation with covered terraces and a view to the Mont Ventoux in a fenced 1.5 hectare wooded park.
You will love the weather and the calm and friendly welcome of a small, typically Provençal village.
The site is ideal, with restaurants, trails, historical visits, biking and hiking tours.
A few kilometres from Avignon in the heart of Provence, Camping **** Les Verguettes allows you to discover the South of France, from Mont Ventoux to L'Isle-sur-la-Sorgue, the lavender fields of Sault and the hilltop villages of the area (Gordes, Venasque).
Come and relax in this natural area.
Bénédicte & Lionel
News 2020
News 2020: Expansion of the campsite
6 new Premium cottages with garden and view of Mont Ventoux,
including one with facilities for handicap.
A Fitness area,
Renovated toilets area at the reception and next to the car park,
And still lots of new things to discover!
Opening Dates and Promotions
New dates : Open from June 1st to October 22d, 2020
Tourist attractions of the camp site
Unusual things to do starting from the camp-site, go to many places and take walks:
For lovers of nature the camp site is located between Monts du Vaucluse and Mont Ventoux – the highest mountain in the area.
For cyclists, Mont Ventoux can be reached in few minutes (10 kms) on a flat and smooth road.
For walkers, you can get to the splendid Nesque canyon, see the red ochre in the forest of Mormoiron, and take many walks in the fields of lavender and the wooded hills around the camp site.
For gourmets, you can savour the Vaucluse wine in the Cave Terraventoux, just near our camp site.
And for everyone, the Provence offers famous historical and natural sites (Avignon, Rustrel, Roussillon) and also small, typical villages which are not so far from our camp-site (Sault, Blauvac, Méthamis, Venasque).
A camping experience for the whole family
The camp site offers you a lot of activities for everyone.
The warmed pool is pleasant in Spring and Summer, for swimmers and for children. A paddling pool is available for youngsters.
People who go for sport can stay at the camp site and enjoy the multis-sports area, pétanque (like boules) and mini-golf. In summer, we organise weekly sports tournaments.
Children from 1 to 12 years old can play and take part in various activities: zip line on an acrobatic path, the inflatable giraffe, playground and activities for little ones under 3 years old (drawing, balancing games, board games, etc). In summer, special shows are put on for children.
If you just want to relax, there is the patio under the olives trees, a library of books in various languages and for all ages, yoga sessions and a weekly concert in summer and on public holidays.
In the village, 5 restaurants and pizzeria are located at 5 minutes from the camping, by foot. Some "food trucks" come in the camping during the summer.
You can follow all our news and events on Facebook or on our News Page on this website.