Restaurants and shops in Villes sur Auzon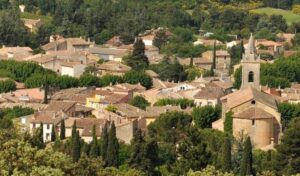 The campsite Les Verguettes is located 5 minutes by walk from the center of the village, where shops and restaurants offer their services.
This typical Provencal village is characterized by its rounded construction, housing a central square where you find the petanque players and locals people quietly discussing under the plane trees. The market offers its specialties every Wednesday morning.
Formerly a hotspot for the exploitation of ocher, you can admire the old mansions in the colors of the region. Nestled in farmland and mountains and forests, you will have plenty of time to taste the fruits and wines of the region and discover nature at the turn of your walks.
The restaurants in Villes sur Auzon
Services in Villes sur Auzon : mini-market, food