Restaurants and shops in Villes sur Auzon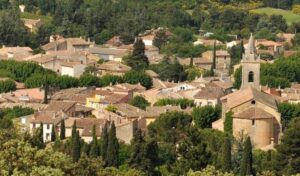 The campsite Les Verguettes is located 5 minutes by walk from the center of the village, where shops and restaurants offer their services.
This typical Provencal village is characterized by its rounded construction, housing a central square where you find the petanque players and locals people quietly discussing under the plane trees. The market offers its specialties every Wednesday morning.
Formerly a hotspot for the exploitation of ocher, you can admire the old mansions in the colors of the region. Nestled in farmland and mountains and forests, you will have plenty of time to taste the fruits and wines of the region and discover nature at the turn of your walks.
Villes-sur-Auzon : an ecological approach!
Elected Regional Capital of Biodiversity in 2019, Villes-sur-Auzon has been moving for several years towards a strong approach to safeguarding the planet.
Through several recognized actions, Villes-sur-Auzon is preparing to be an integral part of the future Mont Ventoux Regional Natural Park.
Some actions implemented by the City Council:
Replacement of public lighting with LEDs and switching off between midnight and 5 a.m.
Repair of paths and dry stone walls of shared gardens, to visit during your visit.
Natural treatment of the vegetation in the cemetery, and establishment of the garden of remembrance.
Installation of charging stations for electric cars.
Development of climbing routes in the valley of Escampeaux in respect with the animals and plants in place.
And many other projects in progress …
Of course, the selective sorting of waste is a major issue and the reduction of non-recyclable waste is a constant struggle.
Welcome to Provence!
The restaurants in Villes sur Auzon
Services in Villes sur Auzon : mini-market, food